Moshe Kasher
is a stand-up comedian and the author of Kasher In The Rye: The True Tale Of A White Boy From Oakland Who Became A Drug Addict, Criminal, Mental Patient…And Then Turned Sixteen This is a story of a Passover miracle. Or something. Readers should be advised of strong language and total immaturity…although it's got a pretty great ending.
It is said that whoever finds the afikomen on Passover is granted a wish that cannot be refused by the master of the house. That wish, no matter how extravagant or unusual, must be fulfilled and until the lucky discoverer is satisfied that his wish has been granted, the seder cannot continue. This is the story of the night that went quite wrong.
It was the first night of Pesach and Shmulie slumped down at the head of his Seder table with a great relieved sigh. The week was finally over. He'd been running around all week, shopping for matzah and matzah meal and matzah-based beverages and other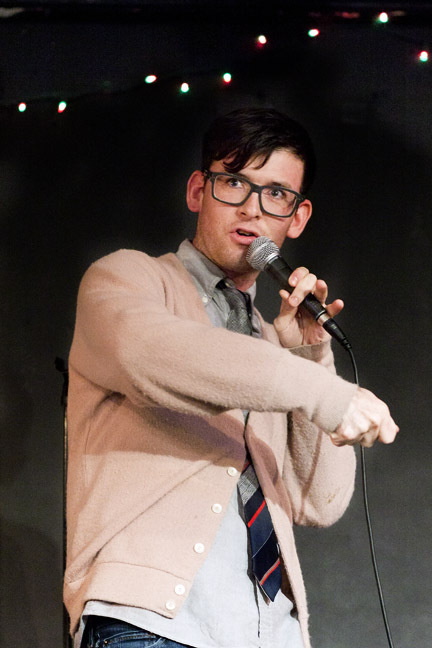 assorted constipation aids. Shmulie was exhausted.
"Why are you sitting down!?!" Pessy yelled from the kitchen, "Get the door!"
How his wife even knew he had just sat down was beyond Shmulie's grasp. Pessy had a kind of second sight that tuned right into Shmulie's attempts at rest. Anytime he took a deep breath she would yell, "Don't breathe!" He didn't know how to comply.
Pessy was the boss, always had been. Mostly, Shmulie accepted it, as she seemed able to know all of the things that he didn't quite know how to do. She was his queen and it didn't matter to him if she only rarely treated him like a prince. For her, he would be a pauper — he would be a page.
"GET THE DOOR!!!" Pessy shrieked from the kitchen.
"Pessy, no one is at the door!" Shmulie tried to sound reasonable.
Just then the door bell rang. How had she known!?!
Shmulie ended his one-breath-long vacation and got himself up and sauntered into the hall to welcome the Pesach guests. One step at a time the plastic runner in the hall buckled beneath his big feet. He made his way to the door.
One by one the guests trickled in. Shmulie didn't know any of them, but he greeted each of them with a big fake smile and a warm "Chag Sameach!"
He'd done this before. This was the seventh year in a row they'd hosted a seder for the neighborhood. A sea of strangers washed into their dining room and ate as much as they could then leaked out into the streets. Shmulie hated it. He hated strangers and it was odd to him that some of the people Pessy invited were non-Jews. Why would they be invited to Passover? Sure the Hagaddah says "Let all who are hungry , come and eat!" but they couldn't have meant let all who are hungry, right? Hungry goys too?
Oh well, Pessy knew best. Shmulie repeated this to himself for the ten thousandth time and got to the business of beginning the seder. At the far end of the table was a Laotian family who clearly didn't even know what they were doing there. Confused looks were exchanged when Shmulie dipped the parsley into the salt water and splashed the water on his face to show them that they were tears.
"Tears get it? Like boo hoo?"
"Why are they tears?" Bok, the youngest Laotian boy, asked.
" Because we remember the tears our people shed in the desert , toiling for the Egyptians in the hot sun," Shmulie recited, as if from a script.
" In Laos, we cried too… do you want to know why?" Bok asked.
"Not really, no." Shmulie just wanted to get through this meal.
"Shmulie! Don't be rude." Pessy turned to the seder guests. "Sorry about him, he's been emotionally off lately. We think its gluten. Thank goodness for Passover, the original lo-carb diet!" She shrieked disgustingly and turned to Bok and said, " We'd love to know why you cried." Pessy's face scrunched up in compassion in that singular way that only white women sympathizing with brown people can manage.
Bok spoke, "In Laos we cried because we didn't have a floor. Our hut was lined with dirt…"
"Well that's horrible, sorry about that Bok, back to Passover…" Shmulie couldn't stand stuff like this.
"I'M NOT FINISHED! We ate worms and grubs. We had one well, but it was filthy and we had to drink it anyway. My father died of dysentery."
"Is that everything?" Shmulie was losing his patience here. He hadn't signed on for an address at the United Nations. He just wanted to eat that f–king afikomen and be done with this thing.
"No. It is not everything." Bok then began a 45 minute speech about that hardships of life in Laos that was so painful to listen to that Shmulie imagined he now knew exactly how it felt to be a slave in Egypt, or in fact, a boy in Laos.
Eventually Pessy gave up on the ritual aspects of the meal altogether and just started serving the food in between Bok's exaggerated sobs, never once betraying any annoyance or a lack of interest in hearing Bok's tale of woe which was superseding what was supposed to have been the tale of the woe of the Jewish people. Goddamn it, this Laotian kid was stealing Passover with his sad little life. Shmulie had had about enough of this.
"Ok, that's it. We are doing Afikomen now." Shmulie's voice was terse and annoyed.
"Shmulie! We have to finish hearing Bok's story!" Pessy snapped back.
"I'm almost done." Bok smiled.
"No! No, I'm putting my foot down. I'm sorry Bok, I am. Laos sounds sh-tty. I'm sorry your father is dead and I'm sorry you had dirt floors and I'm sorry there is a sauce in Laos made of cow shit. It really sounds bad but right now, it's Passover. And it's midnight and we are moving on to the afikomen and then I'm going to bed and then I am going to have sex with my wife!"
"No you aren't," Pessy sneered.
"Then I'll have sex with myself!" Shmulie had never spoken to Pessy like this. It felt really, really good.
Bok frowned, sad. "Alright. I'm sorry. I apologize. I didn't mean to ruin your holiday with my sad story. Lets move onto the Afi…what did you call it?"
"Komen. THE AFI-KOMEN. Let's do."
Shmulie cut the awkwardness in the air with an uninspired speech about the Afikomen and the rewards it wrought. Then he screamed "Go!" and began the hunt. Nobody moved.
Slowly, at the end of the table, Bok stood up and calmly walked directly over to the spot where Shmulie had hidden the Afikomen earlier, underneath a copy of Bob Marley's album, "Exodus" which Shmulie had felt to be a great joke but , watching Bok flip it over and grab the Afikomen without emotion or recognition had taken all the joy out of it. Bok lifted the Afikomen up.
"Great Bok, you win. You got the Afikomen. What the hell do you want for it."
Shmulie knew. He got it then. Anger surged into him. This was a set up. A con to peel a couple grand from him. Somehow Bok knew all about the Afikomen and had set this up to ruin his Passover. All the joy he'd felt when he'd stood up to Pessy was now gone. He looked over at her, frowning, her glare accusing him – HIM! – of ruining the seder. At that moment, Shmulie knew one more thing- he hated his wife.
"What do you want? Let me guess a grand? Five thousand bucks? Just say it and let's end this fucking night."
All the guests got silent and shifted uncomfortably. Everyone wanted to leave.
Bok looked up, smiled and said quietly, "I want your life."
Shmulie looked back, confused.
"And," Bok continued, "I want you to have mine."
And that was how Shmulie and Pessy Bornstein moved to Laos. Since then, Shmulie has made his living repairing old sneakers at the market in town and Pessy caught tarantulas in traps she made and set in the woods. She would sun-dry them and sprinkle garlic, soy and MSG on them and sell them on sticks to travelers.
Their home was small, and the floors were dirt and when the rains came, they hoped that the leaks wouldn't make too much mud. They'd tried to have kids but something in the drinking water seemed to have turned Pessy's womb. But mostly, they were happy. Pessy had softened. Shmulie had found his voice. When the afternoon suns came and the pale streams of light stole through the lattice of the hut they lived in and shone on her brow, she glowed, radiant, pure and perfect. And, one afternoon as that Laotian sun danced on her face, Shmulie looked over and realized that he loved his wife. He loved her very much. Crowned with a crown of pure sun, once again, she was his queen.
At that very moment of realization, the postman came, squeaking down the dirt road that led to their village on a bike so creaky and rusty – it defied the laws of logic to see it's wheels turn. The postman, Chantos, handed Shmulie a letter. The letter , thick papered and tied down the middle with a single red ribbon, held in place with a red wax seal, sat , heavy in Shmulie's hands. It seemed to vibrate there, singing with an invisible music. Shmulie realized his hand was trembling when he broke that seal and he called Pessy into the hut as he opened the letter. It read, in a simple script:
You can have your life back now.
Yours,
Elijah The Prophet
Pronounced: ah-fee-KOH-men, Origin: Greek, a piece of matzah that is hidden during the Passover seder, found after dinner and eaten as dessert at the end of the meal.
Pronounced: PAY-sakh, also PEH-sakh. Origin: Hebrew, the holiday of Passover.
Pronounced: SAY-der, Origin: Hebrew, literally "order"; usually used to describe the ceremonial meal and telling of the Passover story on the first two nights of Passover. (In Israel, Jews have a seder only on the first night of Passover.)