This is a guest post from Dov Rosenblatt, lead singer and guitarist of the band Blue Fringe. He and the producer and composer Diwon just recorded a version of "Hatikvah," Israel's national anthem, for Yom Ha'atzmaut, Israel Independence Day, which you can listen to or download right here.
Below, Dov writes about his own Yom Ha'atzmaut memories.
I was 19 years old in Israel studying for a year, the longest away from home I had ever been since being off at camp for a full summer. I was soaking in the rich land of Israel, the historic sights, the people, the life. Everything seemed so accessible, so easy to get wrapped up in. I felt part of the culture and yet I knew I was so different, so spoiled, so…American, for lack of a better word. I couldn't relate to the magnitude and the nobility of the task Israeli boys my age lived with – to willingly risk their lives defending their, and my, homeland.
Yom Hazikaron came along in the calendar, as it has since 1949 — when it was first celebrated on the same day as Israel's Independence Day, rather than the day before — and I attended the official ceremony on Mount Herzl with friends. I was amazed at how many people came together! Walking the lengths of thousands of gravestones of fallen heroes who died in the name of Israel, together with thousands of living Jews, I was struck by the stark contrast of beauty in the gardens and blossoming life in this place of "death.â€
But again, I was overcome with a feeling of not being able to relate. I felt sheltered and cowardly having never even fought to defend my lunch, let alone life. Just as I was feeling like I didn't belong, like I should walk home and leave these brave men and women to their service, a voice over the loud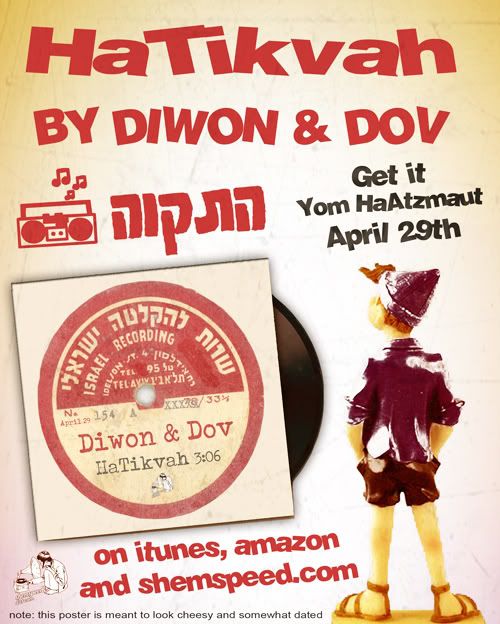 speaker was heard by all and we stood in our places silently. In Hebrew, a booming, God-like voice read aloud EVERY NAME of fallen soldiers who perished while fighting for the Israeli Defense Force. I bowed my head and paid attention to each name, trying to somehow pay them my respects.
"Dov Rosenblatt,†the voice called out.
I lifted my head in sudden shock. I looked around at my friends to see if they heard it. They looked back at me with an understanding that they too heard my name called and yes, that must be powerful. It WAS powerful. I suddenly belonged.
We left that evening and went straight to the Kotel, where the party began to celebrate Yom Ha'atzmaut, Israel's Independence Day. We danced with everyone and anyone, joining hands and singing at the top of our lungs and we all felt like brothers. And after my experience that day, I truly felt like I belonged.
Download Dov and Diwon's version of Hatikvah.