Dara Horn, whose astonishing book
All Other Nights
was just released in paperback, is a big fan of the Czech author Franz Kafka. She also likes stuffed animals. Not coincidentally, a charity project called Significant Objects is bringing the two together: you can bid on an undeniably-creepy-yet-undeniably-cuddly monkey puppet, together with an original story about the puppet — that, yes, does involve Kafka — written by Horn. (All money raised supports Girls Write Now…and, with 4 days left, the bidding is still at $3.26, which is nothing short of astonishing, and would probably fall under the legal definition of "a steal.")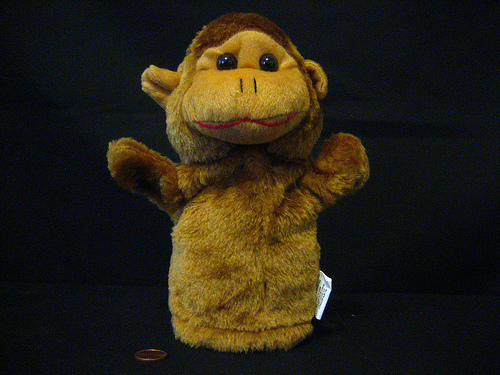 Horn writes:
Among Franz Kafka's possessions upon his death from tuberculosis in 1924 were many unpublished manuscripts and personal effects, all entrusted to the novelist Max Brod, whom Kafka had appointed as executor of his estate. In his will, Kafka specifically instructed Brod to burn all of his manuscripts, an order which Brod chose to defy. No instructions were provided regarding Kafka's personal effects.
In addition to The Trial, Kafka at the time of his death was also at work on another manuscript, tentatively titled Metamorphosis II: Monkey Puppet. A sequel to The Metamorphosis, Metamorphosis II continues the story of the surreally afflicted Samsa family. After Gregor the cockroach's death and Mr. and Mrs. Samsa's relief as they notice their daughter Grete's blossoming young figure ("they had come to the conclusion that it would soon be time to find a good husband for herâ€) in the final pages of Volume 1, Metamorphosis II resumes ten years later, with Grete Rosenzweig, née Samsa, as a discontented hausfrau and indulgent mother of three in Prague. In the opening paragraph, Grete Rosenzweig awakens from uneasy dreams to discover that she has been transformed into a plush puppet belonging to her surly and ungrateful six-year-old son Adolf. As young Adolf begins a systematic program of sadistic destruction of his playthings, Grete reconsiders her approach to parenting while pondering the absence of God.
Are you sold? I'm sold.* If you're salivating half as much as I am (uh, eww), then go place a bid, or go here to read an extract. (And if you're whetting for more Kafka, come back to read MJL's Franz Kafka article, with my favorite subhead ever.)
* – Except, not really: We're moving in 2 weeks and I'm officially not allowed to buy anything until then. Seethe.