I really can't decide what to think of the new film New York, I Love You — except that I should probably see it before i make any judgment. The trailer looks stunning. But the web clips of the segment "Kosher Vegetarian," its segment about Hasidic Jews, make me wince — although it's scripted by Suketu Mehta, who wrote the amazing book Maximum City.
So that's why I decided to ask Rabbi Elli.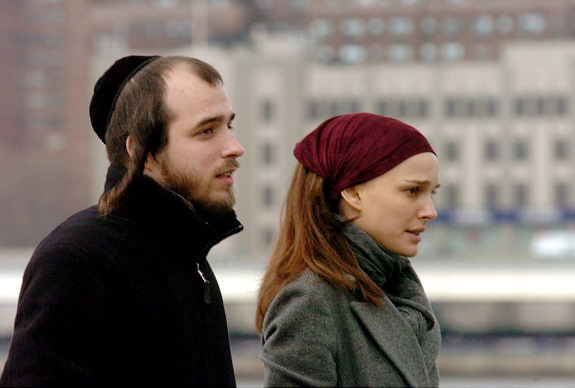 Elli Meyer is known as Hollywood's go-to Hasidic Jew, with hundreds of credited and uncredited roles in everything from The Sorpranos to 27 Dresses. He appeared in the film's Hasidic Jewish sequence — in which Natalie Portman appears as a Satmar Hasid. He sent out a mini-review to his mailing list of Shomer Shabbos Actors of America — and now he's agreed to share it with the rest of the world.
It was an okay film, not great. Our sequence (the Hasidic Jeweler sequence) is one of the best, but again not great. The dialogue is pretty ridiculous. Abe Karpen is VERY well featured and seen again at the end of the film. The film is VERY blatantly missing Black, Latino and Gay sequences…
The whole film is very dark. It was all filmed in Feb, March and April and shows NY to be very wet and blah. Very little color, and we know NY is VERY colorful. The editing leaves a LOT to be desired, very choppy. It is also out of sequence and sometimes hard to follow because the scenes are short and we don't get enough time to know who the characters are. The music is amazing and that makes a huge difference in watching the movie. Actually, it is the saving grace of the entire piece. The two most outstanding pieces are most definitely the Prom and the Older Couple. Ours would be my third favorite.
I give it 3 out of 5 stars.
Below is a short behind-the-scenes take with Mira Nair (who directed the Jewish segment, as well as Monsoon Wedding, a brilliant movie about religious families of a different sort). You also get a short glimpse of the flirtation — which feels forced here, but is hopefully different in the actual film — between a religious Jain and a Hasid, who's played (with hardcore awesome Israeli accent!) by Natalie Portman.
Portman's other beau in the film was played by a Hasidic actor who got in trouble with his community for appearing in the short film. One of the New York tabloids blew the story completely out of proportion, of course — but apparently, he didn't drop out (that was the newspapers' hot air) and it didn't affect the final product at all. I have to say, as excited as I am to see Ms. Portman frumming it up, I'm more excited to see Grand Rabbi Elli in action at the wedding dance.
Pronounced: khah-SID-ik, Origin: Hebrew, a stream within ultra-Orthodox Judaism that grew out of an 18th-century mystical revival movement.
Pronounced: KOH-sher, Origin: Hebrew, adhering to kashrut, the traditional Jewish dietary laws.