Reprinted from Jewish Women: A Comprehensive Historical Encyclopedia with permission of the author and the Jewish Women's Archive.
The narrative in 1 Samuel 1-2, in which Hannah is protagonist, is set in the late pre-monarchic period (11th century BCE). It opens obliquely with the introduction of her husband, Elkanah, who is identified by name, location, and extensive genealogy. Elkanah's two wives conclude the exposition, and they are presented without genealogy. The significance of the women lies in their relationship to Elkanah and in their childbearing capacity: "The name of one was Hannah, and the name of the other Peninnah. Peninnah had children, but Hannah had no children" (1:2).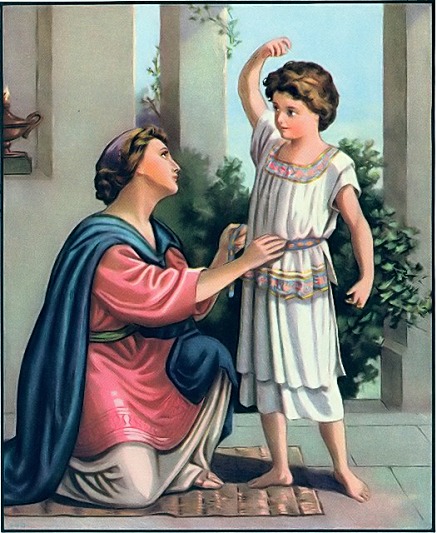 The use of chiasmus (the inversion of elements in two parallel phrases) underscores the standing of the women: Hannah is the primary wife, yet Peninnah has succeeded in bearing children. It also foreshadows the tension in the relationship between the women, Hannah's status as primary wife and her barrenness recall Sarah and Rebekah, and an implicit comparison with these earlier women underlies the entire narrative. The matriarchs sought the recognition of motherhood through surrogate females, a solution that brought more grief than honor.
Against this background, the reader of the Hannah narrative may suppose that Elkanah took Peninnah as second wife because of Hannah's barrenness; but Hannah, unlike Sarah and Rebekah, never doubts her capacity for motherhood. Although vexed by Peninnah, Hannah does not enter into the rivalry that characterizes the matriarchal narratives. With a loving (but tactless) husband and a jealous rival wife, Hannah keeps her counsel and her suffering to herself.
Desperate for a Child
At the annual sacrifice at the major shrine of Shiloh, Hannah's predicament is intensified by her husband's allocation of sacrificial portions, one to each of his wives and children: the value of the women is demonstrably enhanced by their child-bearing capacities. Though he gives a generous portion to Hannah, this gesture still emphasizes the fact that she has borne no children and thus does not comfort her.