Moshe Kasher
is a stand-up comedian and the author of Kasher In The Rye: The True Tale Of A White Boy From Oakland Who Became A Drug Addict, Criminal, Mental Patient…And Then Turned Sixteen This is a story of a Passover miracle. Or something. Readers should be advised of strong language and total immaturity…although it's got a pretty great ending.
It is said that whoever finds the afikomen on Passover is granted a wish that cannot be refused by the master of the house. That wish, no matter how extravagant or unusual, must be fulfilled and until the lucky discoverer is satisfied that his wish has been granted, the seder cannot continue. This is the story of the night that went quite wrong.
It was the first night of Pesach and Shmulie slumped down at the head of his Seder table with a great relieved sigh. The week was finally over. He'd been running around all week, shopping for matzah and matzah meal and matzah-based beverages and other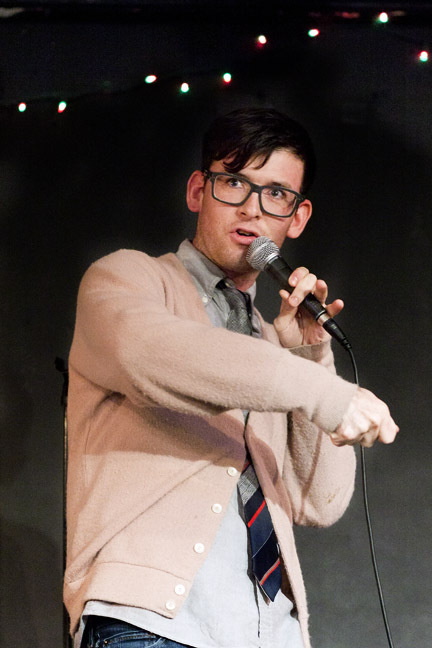 assorted constipation aids. Shmulie was exhausted.
"Why are you sitting down!?!" Pessy yelled from the kitchen, "Get the door!"
How his wife even knew he had just sat down was beyond Shmulie's grasp. Pessy had a kind of second sight that tuned right into Shmulie's attempts at rest. Anytime he took a deep breath she would yell, "Don't breathe!" He didn't know how to comply.
Pessy was the boss, always had been. Mostly, Shmulie accepted it, as she seemed able to know all of the things that he didn't quite know how to do. She was his queen and it didn't matter to him if she only rarely treated him like a prince. For her, he would be a pauper — he would be a page.
"GET THE DOOR!!!" Pessy shrieked from the kitchen.
"Pessy, no one is at the door!" Shmulie tried to sound reasonable.
Just then the door bell rang. How had she known!?!
Shmulie ended his one-breath-long vacation and got himself up and sauntered into the hall to welcome the Pesach guests. One step at a time the plastic runner in the hall buckled beneath his big feet. He made his way to the door.