Last week, the Foundation for Jewish Camp hosted our biennial conference, Leaders Assembly, in New Jersey.  The topic of inclusion was high on the agenda and I engaged in so many invigorating conversations with colleagues about the topic and what each camp hopes to achieve within their own camp communities.  Alexis Kashar, a civil rights and special education attorney, spoke to attendees about how growing up deaf impacted her access to the Jewish community. I was particularly struck by Alexis' description of the effect that living in a home with a family with two parents and a sibling who were all deaf had on her sister who is hearing.  Because synagogue life and supplemental school were inaccessible to the family, her sister was never introduced into it. Alexis stressed to us how inclusion has a "ripple effect" and can profoundly affect the lives of the family of the person with disability.
Just one day after the close of the conference, I read the report that had just been released from the Centers for Disease Control and Prevention announcing that the escalating numbers of Autism Spectrum Disorder (ASD) diagnosis continued to rise. According to the report, one in 68 children are now believed to be diagnosed with ASD, a group of developmental disabilities that can cause significant social, communication and behavioral challenges. It reaffirmed for me the important work that our camps can do to engage children with disabilities and their families and continuing to evolve in order to embrace them in the best way possible.
People with ASD are common and prevalent members of any group of youth or adults. The drive towards inclusion is recognition of the new normal in our lives. In the past, specialists were sought to address the particular needs of individuals who "didn't fit," in a hope to "help them succeed." But the numbers tell us that this is not a fringe issue. As camps continue to accept more and more children with a variety of disabilities, I hope that staff training focused on caring for children with disabilities will be offered to all staff so that everyone can better understand and interact seamlessly with a variety of capabilities and needs. Sports specialists, swim instructors, and other recreational specialists will likely be challenged to use techniques that will engage children who are not naturally drawn to activities such as sports and who need to be coached differently in order to acquire certain skills. Visual directions, visual schedules, sensory considerations and flexibility in choice of activities will likely become a part of necessary accommodations so that camp programs can become naturally inclusive. I can say that in all of the conversations and sessions in which I participated in at Leaders Assembly last week, I was happy to see that the field of Jewish camping is moving toward a more inclusive society where all campers will be able to experience success.
Note: The opinions expressed here are the personal views of the author. All comments on MyJewishLearning are moderated. Any comment that is offensive or inappropriate will be removed. Privacy Policy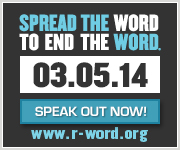 Today is Share the Word to End the Word Day. The word "retard" that is.
It was once acceptable to use the words "mental retardation" as a clinical description for people who had below average IQ's and had delays in adaptive skills. Nowadays, the r-word has a significantly negative connotation as it has often been used on playgrounds and in school hallways as a put-down. Even adults have used it, and still use it, in conversations when referring  to something or someone as being an idiot or idiotic. Due to the incredible misuse of this word and the hurt that it causes, we now use "intellectual disability" as a replacement.
One of the purposes of today, is to ask people to pledge to remove the word from their vocabulary and to discourage others from using as well. The r-word must be replaced with RESPECT, respect for people of all abilities. It should also be replaced with what we call "people first language" (a child with autism, a person who is hard of hearing, a person who uses a wheelchair, my brother, my bunkmate, my friend). A person's disability should never be what defines him or her; it is only a part of who that person is. As we continue to move in the direction of inclusion for children with disabilities at Jewish camp we will break down barriers and allow children and adults at camp to learn what makes us more alike than we are different and why the words that we choose to use even in jest, must always be respectful and must always put people first.
Note: The opinions expressed here are the personal views of the author. All comments on MyJewishLearning are moderated. Any comment that is offensive or inappropriate will be removed. Privacy Policy
This post is part of our series dedicated to Jewish Disability Awareness Month.
Each year the most talented dancers and performers at Cedar Lake Camp would audition to compete for first place in a lip-syncing contest in their annual talent show. Kids would plan in the off season, and work all summer to be the best. Last year, however, the camp was challenged to change the show. Cedar Lake had recently welcomed the oldest campers from Round Lake Camp, another NJY camp for children with learning differences and social communication disorders, in a model of inclusion – and these new campers were encouraged to participate as well.
Some of the staff was afraid of what would happen. The new campers could not do the complex dance moves and choreography which was the hallmark of this event every summer. How would the other campers react to them on stage? Would the campers with disabilities feel successful and have a positive experience?
The group was placed in the middle of the show, amidst all of the other competing teams.  One by one the acts performed – rock, pop, and hip hop. Each of the competing acts was amazing and received enthusiastic applause from their bunks and fellow campers. Behind the scenes the tension mounted awkwardly as the new group lined up to take the stage.
As these campers with disabilities walked up the stairs, their counselors cheered them on enthusiastically, and the 700 onlookers watched quietly. The group took their positions. What followed was magical.
Each camper made his moves in his own way. Each lip-synced with enthusiasm and joy. Some body motions were exaggerated. Some facial looks or ticks were clear. The rock anthem, "I want it that way" blared over the speakers and the crowd began to cheer. Teenagers who didn't know how to feel when they took the stage couldn't help but get swept up in the pride of the moment. By the end of the song, 700 campers roared to their feet as one. It was the only standing ovation of the day. Those campers were super stars.
No, they didn't "win" first place. But yes, they won the day. And for that moment, everything we want in a camp came true for every single camper who was there.
Note: The opinions expressed here are the personal views of the author. All comments on MyJewishLearning are moderated. Any comment that is offensive or inappropriate will be removed. Privacy Policy