It was after sustaining over 1,000 rockets fired into Southern Israel from the Gaza Strip since the beginning of 2012, more than 130 rockets fired just in the past 3 days alone that Israel finally responded militarily. The barrage of rockets landing in indiscriminate locations — preschools, shopping malls, bus stations and homes — was just becoming too unbearable for the one million Israelis in the range of the rocket fire. It is astounding that even one day of such an assault could be bearable let alone months and months of the same continuous fear of imminent death.
What country would tolerate approximately 1/6th of its population being assaulted by rockets on a daily basis? What country would sit back and do nothing while a sizable portion of its citizens left home everyday and kissed their children goodbye like it was the last time they would ever see them because it very well might? Would the United States find that an acceptable way of life? Did our President not order the intrusion into a sovereign state — Pakistan — and the elimination of Osama bin Laden? Did not most of the free world celebrate that action?
Yet, I could not help but notice the disparities in my Facebook feed these past few days. As a former campus rabbi I am connected to many people in their late teens and early twenties on Facebook. It was shocking to me to see words like "genocide" thrown around by people in this demographic in reference to Israel's act of self defense. Why would Israel's right to self-defense provoke exclamations by young American Jews about how horrible it is to be connected to the Jewish people during this moment; how embarrassed they were for the actions of fellow Jews and how they cry for the loss of Palestinian life?
Let me be clear. All people of good conscience cry for the loss of innocent Palestinian life. All life is infinitely sacred and of immeasurable worth regardless of religion, ethnicity, race or political affiliation. All people are created in the image of God. But where is the condemnation of Hamas? Where are the tears for the Israelis killed? Where is the heartbreak for children not knowing if they will live another day because they took the brave act of going to school?
I strongly believe that one can love Israel and be critical of Israel at the same time. I strongly believe that indeed to be a lover of Israel means to want to help Israel achieve a more just and more perfect country living in peace with its neighbors. Yet, this is not being critical of Israel. This is being ashamed of being associated with Israel.
Why the shame? Why the shame that a sovereign and free state chooses to exercise its absolute right to self-defense? The United States State Department, a government body that has often taken very critical positions of Israel, was unequivocal in its support for Israel to defend itself:
We strongly condemn the barrage of rocket fire from Gaza into southern Israel, and we regret the death and injury of innocent Israeli and Palestinian civilians caused by the ensuing violence. There is no justification for the violence that Hamas and other terrorist organizations are employing against the people of Israel. We call on those responsible to stop these cowardly acts immediately. We support Israel's right to defend itself, and we encourage Israel to continue to take every effort to avoid civilian casualties.

Hamas claims to have the best interests of the Palestinian people at heart, yet it continues to engage in violence that is counterproductive to the Palestinian cause. Attacking Israel on a near daily basis does nothing to help Palestinians in Gaza or to move the Palestinian people any closer to achieving self determination.
The phenomenon we are facing on college campuses is not objective and rational criticism of Israel. The phenomenon we are facing goes way beyond that. We are facing the results of a sub-culture on the college campus that glorifies the demonization of Israel. I do not mean to exaggerate the bias against Israel on college campuses. Each college is different and in most university environments the mainstream campus culture does not vilify Israel. Yet, there is a clear and undeniable sub-culture that seeks to depict Israel as a genocidal, maniacal regime bent on the utter and total destruction of all Palestinian life. It sees every action Israel takes that expresses its self-determination as a state as evil.
This sub-culture has deeply affected many young American Jewish students. If one wants to be progressive, peace loving and liberal there is a tremendous pressure to disaffiliate with Israel and to condemn its very existence, because when one denies the right of a free state to protect itself one is doing nothing less than denying it a right to exist.
There is no easy answer on how to counter this dangerous and subversive sub-culture. How does one work against something so popular and so cool to many of our young people? At the very least it is imperative that we are aware of this sub-culture because perhaps the most effective way to combat this blind hatred is by cultivating one-to-one personal relationships with the next generation of American Jews who are being impacted by this phenomenon.
We must work towards developing a sustainable culture of Israel engagement where one can be a lover and defender of Israel and through that love offer critique and constructive criticism. The answer to this sub-culture is surely not to deny the right of people to express dissent with the policies of Israel but it is to direct those criticisms in a productive way and one that seeks to embrace the narrative of the Jewish people in its ancient-modern homeland. It is to be proud of Israel, with eyes wide open of its flaws and not to live in shame of being Jewish and being in the generation privileged to live in a world with a free, democratic State of Israel.
Note: The opinions expressed here are the personal views of the author. All comments on MyJewishLearning are moderated. Any comment that is offensive or inappropriate will be removed. Privacy Policy
Last year I was chatting with a member of my congregation over bagels with our Tot Shabbat families. She mentioned a mutual friend who has a photo of himself with Robert Redford on his wall.  Having been a big fan of Redford as a young adult, that is – years ago – I was tickled.  But in this conversation I noticed that another young woman who was standing with us at that time had a blank look on her face. I asked her if she knew who Robert Redford was, and she said, "no."  Oh, did I feel old!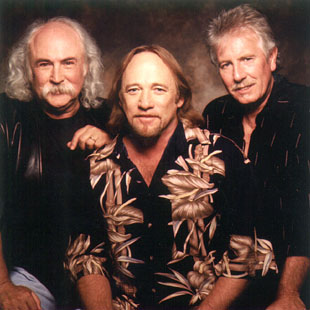 Last week I saw an interview of Crosby, Stills and Nash on a morning TV show. You know Crosby, Stills and Nash, right? They were (and still are) a folk rock supergroup of the sixties, seventies, and beyond.  "Teach Your Children" is one very famous song they contributed to the American musical lexicon. I still listen to their music regularly for its beauty, power and social justice themes. I wish the folk rock music of that era was still the cultural currency of our day!
So imagine my surprise when I sat at a table in a very crowded Apple Store in NJ and noticed a very familiar looking man standing next to me, talking with some companions. I know I could be wrong, but I was thought it was David Crosby. I was so excited; I opened his Wikipedia page to check the photo while he walked away. At that moment the Apple Store technician, clearly 25+ years my junior , came over to assist me. I was all excited — "Hey, he was just standing here!" I said as I pointed at the picture.  The technician gave a cursory look at the web page and said, "oh", "now how can I help you?"  I was frantic to find someone in the store who had noticed the (apparent) celebrity, so I searched the faces of the crowd. No one seemed to have noticed. Young, almost all a generation younger than my own, they were oblivious.
Note: The opinions expressed here are the personal views of the author. All comments on MyJewishLearning are moderated. Any comment that is offensive or inappropriate will be removed. Privacy Policy
I recently made my first exploratory college visit with my high school aged son.  My initial reaction during the tour of this elite liberal arts college was the same as my visit to an Israeli army post a few years ago:  "God help us!  We're screwed if our future is entirely dependent on the success of these highly-libidinal teens and twenty-somethings."  The truth is, I loved the small campus, the 1:10 ratio of professors to students, as well as the personalized study programs that they offered.  For almost $50K per year my kid would get access to great professors, small class sizes, incredible opportunities for selective, character-shaping internships, plus free-massages, and, get this, puppies in the quad to relieve stress during finals week.  As our sophomore Theater Arts major tour guide said, "because who doesn't love puppies." 
It was easy to picture my kid there, thriving, making life-long friends, generally "becoming".  Sadly, the $50K/year price tag only gave me slight pause.  It should have stop me dead in my tracks, but it didn't.  Why not?
First, I was told by our college guidance office that "you just can't tell what a college's real cost will be" until you see how much scholarship and aid money they are going to give you.  If they really want you, a private college tuition can sometimes even be less than a state school's (so I'm told).  So, why not apply to the schools you really want to go, and then deal with the money part latter?
Second, I've bought into the idea that your child doesn't need to go to the best school she can get into, but to the college that fits her best.  What's the point of going to college if your kid will just be miserable there.  Can he thrive there if he feels lost?  Won't she learn more, and live better, in the near future and even well into adulthood if she builds a strong foundation during her first foray in independence?  And, how can she do that if the coursework is so overwhelming that she can hardly breath?
Third, and I know that this will sound simultaneously idiotic and self-serving and high-minded, I don't really care about money, what I care about is people.  Can I afford NOT to make a strong investment in the people I love?  Apparently after reaching the Jewish age of wisdom (40), and after collecting almost $200K in graduate school debt between my wife and myself, I haven't learned a damn thing.  I have figured out that my student loans might finally get paid off when my youngest kid finishes graduate school.  If he goes.  If it still makes sense to still go to graduate school in a decade.  [My sense is that educational life is changing so rapidly that it's too hard to accurately predict what is or isn't necessary to "make it" in the near future.]
Alas, such is the disconnected-from-reality mindset of a parent raised in the 80′s and 90′s, an era so seemingly prosperous that even though I know better it is hard to fathom that this "economic down-turn" can last much longer.  Intellectually I believe that we've likely got almost a decade of unravelling to go and perhaps a full generation to recover from as a nation.
Reading Jefferey Eugenides The Marriage Plot (it should have won him a second Pulitzer) and watching the new HBO series Girls (working with high schoolers and only have sons, I found the first two episodes so mesmerizingly current and concerning that my wife had to remind me that it was a comedy) I am reminded that college does not guarantee a successful "launch":
"I don't want to freak you out, but I think, I may be the voice of my generation.  Or at least, a voice of a generation… Okay, all I'm asking to finish this book is $1100 a month for two years."  (Girls character, Hannah Horvath, to her parents who are cutting her off after two years at an unpaid internship).
I believe that the desire for our kids to "just be happy" is a relatively new phenomenon,  no more than one or two generations old.  It was not so long ago that parents just wanted their kids to "make it," to survive.  Once the relative risk of survival diminished, a new goal came into play – happiness, and happiness, as an end in itself, has brought for many a wave of depression, an eclipse of the holy dimension, and a deadening sense of total relativism in all aspects of life.  It's the difference between living for something larger than the self (think God and country) verse the living for one's ego.
The Talmud provides a short template of parents' obligations to their children:
"A father is obligated to do the following for his son: to circumcise him, to redeem him if he is a first born, to teach him Torah, to find him a wife, and to teach him a trade. Others say: teaching him how to swim as well," (Talmud Kidushin 29a).
The brief checklist suggests that one must provide for the spiritual as well as physical well-being of one's children.  Circumcision (brit milah), redemption of the first born (pidyon haben), and the study of Torah all sustain the soul, while finding a spouse, learning a trade and swimming speak to the physical survival of one's children.  We could also read into the list temporal (physical, this-worldly )and eternal (heavenly) survival.
Could the right college possibly provide my son with spiritual and physical fulfillment?  Is that what I'm hoping for?
In the recent book, Academically Adrift: Limited Learning on College Campuses, sociology professors Richard Arum and Josipa Roksa question what it is that undergraduates are really learning, and how exactly we would know:
In a typical semester … 32 percent of the students did not take a single course with more than 40 pages of reading per week, and 50 percent did not take any course requiring more than 20 pages of writing over the semester. The average student spent only about 12 to 13 hours per week studying — about half the time a full-time college student in 1960 spent studying, according to the labor economists Philip S. Babcock and Mindy S. Marks.
Not surprisingly, a large number of the students showed no significant progress on tests of critical thinking, complex reasoning and writing that were administered when they began college and then again at the ends of their sophomore and senior years. If the test that we used, the Collegiate Learning Assessment, were scaled on a traditional 0-to-100 point range, 45 percent of the students would not have demonstrated gains of even one point over the first two years of college, and 36 percent would not have shown such gains over four years of college.
Why is the overall quality of undergraduate learning so poor?
Remember Robert Fulghum's All I Really Need To Know, I Learned in Kindergarten?  I've always found the title apt.  I would add, and if you didn't learn it in kindergarten, don't worry, it's on the web!  If the findings of Academically Adrift are correct, than wouldn't it be absurd to spend something approaching $50K/year if my kid wouldn't really learn anything?  I don't expect my son's intellect to grow considerably; he's already smart enough (smarter than I, the real measure between fathers and sons).  It's not the money either, though according to the Wall Street Journal college grads should still expect a considerable pay bump over high school grads, between $450K to $1 million over a lifetime.  I've been so deep in debt because of my own student loans that  such numbers feel like Monopoly money.
What I really want in a college for my son are "mastery experiences" that build him up and opportunities that will deepen his understanding of the world and of his place in it.  College is not the only place finding one's causes and path in life can happen, and there are no assurances in the calculation, but as it stands right now, college still seems like the best bet, besides, who knows, there may be puppies.
Note: The opinions expressed here are the personal views of the author. All comments on MyJewishLearning are moderated. Any comment that is offensive or inappropriate will be removed. Privacy Policy