Soon after learning my late grandmother's family lived in Nachlaot, I accepted an invitation for Shabbat dinner from sweet friends, Mottle and Batya Wolfe. Spending Shabbat in Nachlaot definitely felt like the most fitting way to honor my newly discovered roots. When I shared how much I wanted to spend more time where my grandmother grew up, the Wolfes seemed to read my mind and invited me to their seder. I was so touched by their invitation, but Passover was four months away. I was still touring for Cool Jew in what was fast becoming the Energizer Bunny of book tours. It just kept going and going… Could I really return so soon?
At my next stop, Limmud UK, the answer effortlessly appeared. Several participants suggested I present at Limmud Berlin and Limmud Amsterdam, both slated for May. I could fly early to Europe, add on a trip to Israel for Passover and return in time for both conferences. I would barely be home between now and then but I was used to that (!) and Passover in Nachlaot was clearly where I was meant to be… It just kept getting validated. Was it the luck of Cool Jew, my grandmother's orchestrations on high or something else at work?
The time flew by. Finally, I landed at Mottle and Batya's seder. They urged me to share my story again with their guests. I had long known my grandmother was born in Israel but I didn't know she grew up in Nachlaot, near Ohel Moshe Street, where it meets Rehov Aryeh Levin, named for the great tzaddik of Jerusalem. The story kept growing… Continue reading
Note: The opinions expressed here are the personal views of the author. All comments on MyJewishLearning are moderated. Any comment that is offensive or inappropriate will be removed. Privacy Policy
You are working on what?" most of the people I met in Jerusalem asked while I was writing When General Grant Expelled the Jews. Jerusalem is not where scholars generally go to write a book on the Civil War, even if it involves Jews. The majority of Israelis, in fact, know nothing about Ulysses S. Grant (one of them asked me how
he felt about Israel and the Jewish settlements on the West Bank.) Still, my wife and I consider Jerusalem our second home; my wife's research can best be done in Israel's National Library; and the Mandel Foundation offered me a senior fellowship during my sabbatical. So it was that I found myself writing When General Grant Expelled the Jews in Jerusalem, even as my thoughts centered on such Civil War sites as Holly Springs, Mississippi and Paducah, Kentucky.
Anyone who writes about Ulysses S. Grant depends upon the magnificently edited 31 volumes of The Papers of Ulysses S. Grant, edited by the pre-eminent Grant scholar, John Y. Simon. No complete set of those papers may be found in all of Israel. Anyone who writes about the Civil War also depends upon the 130 volumes of the Official Record of the War of the Rebellion, published by the Government Printing Office. I could find no set of those records in Israel either. Once upon a time, that would have doomed my project as simply not doable in Israel. But no longer. For the Grant Papers, the Official Record of the War of the Rebellion and numerous other primary and secondary sources required for my study have in recent years all become available via the internet. A high speed connection brought them directly to my desk-top in Jerusalem. Once, when I needed unique materials from the Jacob Rader Marcus Center of the American Jewish Archives in Cincinnati, they kindly scanned them for me and sent them to my inbox the next day.
In time, all of the impediments to researching the Civil War while living in Jerusalem disappeared. To me, of course, this proved a great relief. I actually managed to submit my manuscript to the publisher a few months early. At a deeper level, the experience reinforced for me how the globalization of information is democratizing knowledge by making once inaccessible materials available to anyone with an internet connection. Where one physically resides and the quality of local libraries make far less difference today than they used to.
Nowadays, as my book demonstrates, one can research even the history of General Grant's Civil War order expelling Jews from his warzone, while living in an Israeli apartment. My Jerusalem neighbors my not have appreciated what I was studying, or why, but I feel confident that American readers will.
Note: The opinions expressed here are the personal views of the author. All comments on MyJewishLearning are moderated. Any comment that is offensive or inappropriate will be removed. Privacy Policy
About a decade ago I read a Billy Collins poem called "Advice to Writers," where this former U.S. Poet Laureate suggests:
wash down the walls and scrub the floor
of your study before composing a syllable.
Clean the place as if the Pope were on his way.
Spotlessness is the niece of inspiration.
There's wisdom there: it feels good to write with an uncluttered mind, unburdened by other concerns.
But taking Ajax to your literal and metaphorical surroundings could border on sterilizing. And also, silencing. Sure, Collins is at least in part joking – it's a funny poem – but I'm sure he means it, too. The poetic voice he is suggesting his readers to summon, in a clean-pristine room, is very much a solo. People, things – out of the way! The poet is talking! (to himself, and being funny – don't miss out!). A room with scrubbed floors, however tempting, is not where a soul lives, at least I don't think so.
My wife and I spent 2008-2009 in Jerusalem, where I was a Dorot Fellow. It was unforgettable year, the time when, more so than ever before, I had an opportunity to write. Location was an open question. Our apartment was neater beyond anything I've ever encountered. We have just gotten married, and my wife Shoshana put up a valiant and edifying effort to keep it sane – despite the combination of me, guests, our belongings, and Jerusalem dust who would gang up and daily raise a mighty paw of offense. However close to Collins-compliance state, our place was too small, too removed from pulsing, yelling life that surrounded us. I had to get out.
And so, most often I'd go to a little cafe, called Nocturno, a few minutes away from the apartment. It was a tiny duplex with a winding metal staircase that at its peak managed to host as many as three dozen people, which was kind of unbelievable. Talmud, describing the miraculous occurrences of the Temple, says: "people stood close together, yet when they worshipped there was enough room for all." It was that sort of a thing. All the space got used up: tables outside, bar stools, loners were doubled up into joint tables, and even the cement ledge that's technically outside the perimeter had a few people sitting on it. The menu ranged from soup to cigarettes, but most importantly, they brewed great coffee. And the crowd was very colorful. With Bezalel Art School nearby students came out in droves; but there were also heavy grad school folks buried in their books; a few hip religious Jews; secular population of Jerusalem (a wonderful and underexplored breed of their own!); lots of foreigners. A few times I spotted Israeli Arabs – a fact that, in the city where divide lines run at their deepest, says a lot about the cafe and its vibe.
I sat upstairs, with my notebooks, big mugs of coffee, and watched the noise. It was visible. The noise, like the cafe itself, seemed layered, there were floors to it, and winding noise-stairs. The noise-steam rose from cups of noise-sipping noise-masters. Bringing around plates, waiters, served noise-sandwiches. It was neither grating nor even unpleasant. It was a structure. An organic structure. It felt great.
This is where my Jazz Talmud project was born. I was playing around on the page, free-associating, and within a span of a week I wrote a core of poems that became a book. The idea was to use the Talmudic rhetoric, talk the way Talmudic rabbis talked – but address things relevant to me and my life. Talmud is not what Collins would pine after, nor certainly what Joyce'd call a "clean well-lighted place." Because there is never a single voice cutting through it. It's like a body; it's also like a universe. Everybody is talking to everyone – across centuries, backwards and forward, moving, chatting, chattering, agreeing and vehemently disproving, reminiscing, reconciling, recoiling, trying to bring the house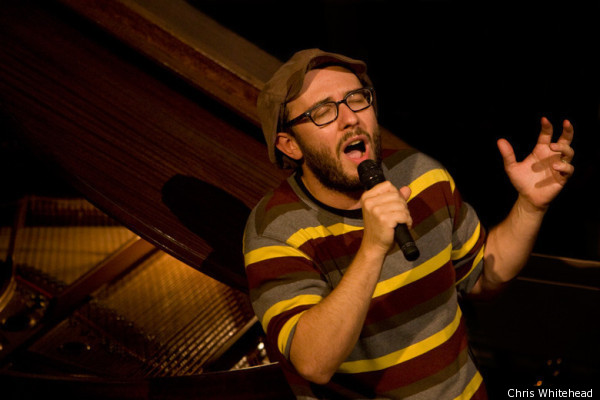 down – you get the idea. The same is true for jazz. I once heard a great American poet, David Meltzer, say that jazz is the closest we've come to utopia. Because it is incredibly communal and people who may have never met each other before, or maybe can't stand each other's guts, will know how to speak to each other in the language much more real than any words we know. People are listening to each other and composing on the spot, responding not merely to one another, but also to the ghosts who've inspired the music they're playing: be it their teachers, or jazz greats who've laid down genre's foundations, or even people in their actual lives – because of the improvisational factor, jazz is visceral and personal, revealing even.
So then what I begun to construct is poems with many voices. With noise-structures and arguments. Here's an example.
Jazz Talmud
said Rabbi Zusha: "my mother named me Sasha but I fell into a seraphic orchestra pit, and things have not been the same" his students asked him: "what did you see in the pit?" he answered: "behold, four seraphs held a cello, like a naked, newly-formed body, and eight pushed the bow" whose cello? Adam's whose bow? Mordechai's, the refused bow that makes cellos of heaven sing the soul-spilling human heaviness — the essence he also said: "in every horn, their lives a family of shadadademons, a family of three or four, on the average angel Gabriel comes to blow his hot breath to let them loose into the world, their clothes flutter, their hearts beat against the four brass bars of domestication, both breaking as a result" therefore, every saxophone is a ripped cage: no, a rib cage: of an ancient being that de-composed long before names of god became the star-tallis in which hearts are wrapped/rapt taught Rabbi Akiva: behold there are names of god that got filtered by moth-screens others got lost in the loss of the hiss of the vinyl some stuck in Karl Marx's beard some stuck between the boards of the family-table and can only be extracted with a big family knife some spilled on the mama-apron in the deep-fry-metaphysical back-kitchen but these are the 32 revealed names of god: "jehwaep. shadai-doodah woop elohadip dip papadoo dap. strata doo dampa flip clip dedam pam pa derederedere strip tzuris degatee goat boom dupa goat ratata ratata what? you askin? outer bank, jehwaep shadai doodah wap" New Orleans funk band the Meters inherited twenty crumbs of the god-name from the voodoo grandmother who plucked them at the foot of the great phallic Ethiopian Eucalyptus but some say she birthed these crumbs, each in deep pain, each deep in time, each under the brilliant lamp-lights which are the eyes of Messiah himself
Note: The opinions expressed here are the personal views of the author. All comments on MyJewishLearning are moderated. Any comment that is offensive or inappropriate will be removed. Privacy Policy